A personal message from CEO and co-founder, Jason Oxenham
Bonjour !,
I'm glad that you're here, and I'm excited to tell you a little more about Rocket Languages.
Allons-y ! Let's go!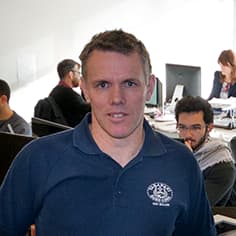 Jason Oxenham
Rocket Languages
Co-Founder and CEO
Getting started
Let's rewind to 2004. I was 33, and I'd been dabbling with learning French for a few years. I'd spent years doing everything that language learners are "supposed" to do. I stocked up on textbooks, I faithfully attended classes and I tried software program after software program. But nothing seemed to work. I wasn't much further than when I'd started--unless being able to say, "The cow is on the car," is considered progress!
I guess, in many ways, I wasn't the ideal candidate for learning a second language.
The school I went to didn't offer language classes,
I didn't have access to any French speakers,
I was, and still am, tone deaf :)
And I felt nervous about making mistakes whenever I did speak to French people.
I knew I couldn't be the only person having trouble. So at the start of 2004, my friend and co-founder, Mark Ling, and I put our heads together. What other challenges were holding people back from successfully learning a second language? And how could we help them overcome them? We decided to do some research. So we:
Surveyed several polyglots (people who speak several languages),
Hired linguistic experts,
Researched practical learning strategies,
And brought in web developers and graphic designers.
Within 12 months we had created both Rocket Spanish and Rocket French by combining engaging listening activities, easy-to-follow grammar lessons and useful vocabulary words. Both of these were instant hits, with members sending in rave reviews about just how much better our courses were than anything else on the market.
By late 2004, we were the first company to provide online language learning courses, even if they were just MP3 files and PDFs!