We help people to learn new languages, yes. But we believe that we also do so much more. We're inspired by the awesome potential that language has to connect people and to expand horizons. A new language lets you see the world through a different lens. It can change you, helping you to understand other cultures - their people and places - in a more meaningful way. We know that language has the potential to create a better world. Sounds ambitious, right? We love that!
We are a small team of passionate people who are on a mission to help humans connect, communicate and come together. We're not a global corporation that exists for the sole purpose of turning a profit. We believe in what we do and we put our heart and soul into our work.
How did we get started? AKA "The Founder's Journey"
Hi! My name's Jason. I'm the co-founder and CEO of Rocket Languages. And I wanted to tell you the story of how the company was born.
First, let's rewind to 2004. I'd been trying to learn French for a few years. I did what language learners are "supposed" to do: I stocked up on textbooks, attended classes and tried all kinds of software programs. But nothing seemed to work. I knew I couldn't be the only person struggling to learn like this.
So my friend (and soon to be co-founder) Mark Ling and I put our heads together to find a solution. We examined the problems people encounter when trying to learn a language and we explored ways to overcome them. We did a lot of research, surveyed several polyglots (people who speak several languages), hired linguistic experts, investigated practical learning strategies and enlisted technical specialists.
It was a fascinating journey. And within 12 months, we'd created Rocket Spanish and Rocket French. Both courses were instant hits. Users sent us rave reviews, saying how much better our courses were than anything else on the market (not that we like to brag!). We were clearly doing something right, and we were loving every minute of it. So we kept adding languages and perfecting our courses.
Rocket Languages is now a recognized global leader in online language learning. I can honestly say that our success is down to our vision and our people. The fact that we started our business because we wanted to "fix" something and help people connect still gives us the drive to deliver the best online language-learning courses possible.
We're also proud to be harnessing the power of learning in other ways. For example, we sponsor a Cambodian school via the Cambodia Charitable Trust. You can find out more about this life-changing initiative here.
I'm very proud of the fact that we help people around the world to learn new languages. And you'll be glad to know that my French has also come a long way since 2004. Thanks to Rocket French, bien sûr !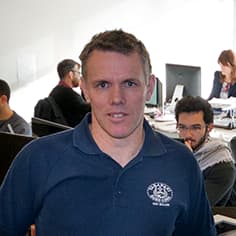 Jason Oxenham
Co-founder and CEO of Rocket Languages Ltd