Spanish Irregular Future Tense
The irregularities in the future tense are a bit difficult to predict. You will be happy to know that ser and estar, which are irregular in almost every other tense, are completely regular in the future. It's the following that you have to look out for:
 

Irregular –ER verbs

Irregular –IR verbs

 

SABER
to know

PONER
to put

VENIR
to come

SALIR
to leave, go out

yo

sabré

pondré

vendré

saldré

tú

sabrás

pondrás

vendrás

saldrás

Ud., él, ella,

sabrá

pondrá

vendrá

saldrá

nosotros/as

sabremos

pondremos

vendremos

saldremos

vosotros/as

sabréis

pondréis

vendréis

saldréis

Uds., ellos, ellas

sabrán

pondrán

vendrán

saldrán
You will notice that the irregular –er verbs drop the –e from the infinitive ending, while the irregular –ir verbs replace the –i with an –r.

Other common verbs that follow this irregularity are:

poder: podré, podrás, podrá, podremos, podréis, podrán
querer: querré, querrás, querrá, querremos, querréis, querrán
tener: tendré, tendrás, tendrá, tendremos, tendréis, tendrán
valer: valdré, valdrás, valdrá, valdremos, valdréis, valdrán

There are two verbs that have an even stranger stem change in the future tense. You will simply have to memorize these.
 

HACER
to make, to do

DECIR
to say, to tell

yo

haré

diré

tú

harás

dirás

Ud., él, ella,

hará

dirá

nosotros/as

haremos

diremos

vosotros/as

haréis

diréis

Uds., ellos, ellas

harán

dirán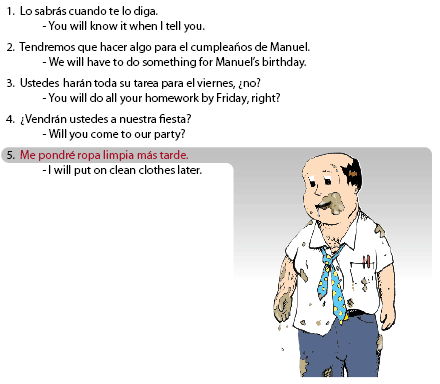 ---